Love the paranormal? Love Wales? Then you'll love… Paranormal Wales, a new book and Ghosts of Wales podcast!
Paranormal Wales podcast, books and events: Explore haunted Wales' weird and wonderful "most haunted" history with Welsh author Mark Rees.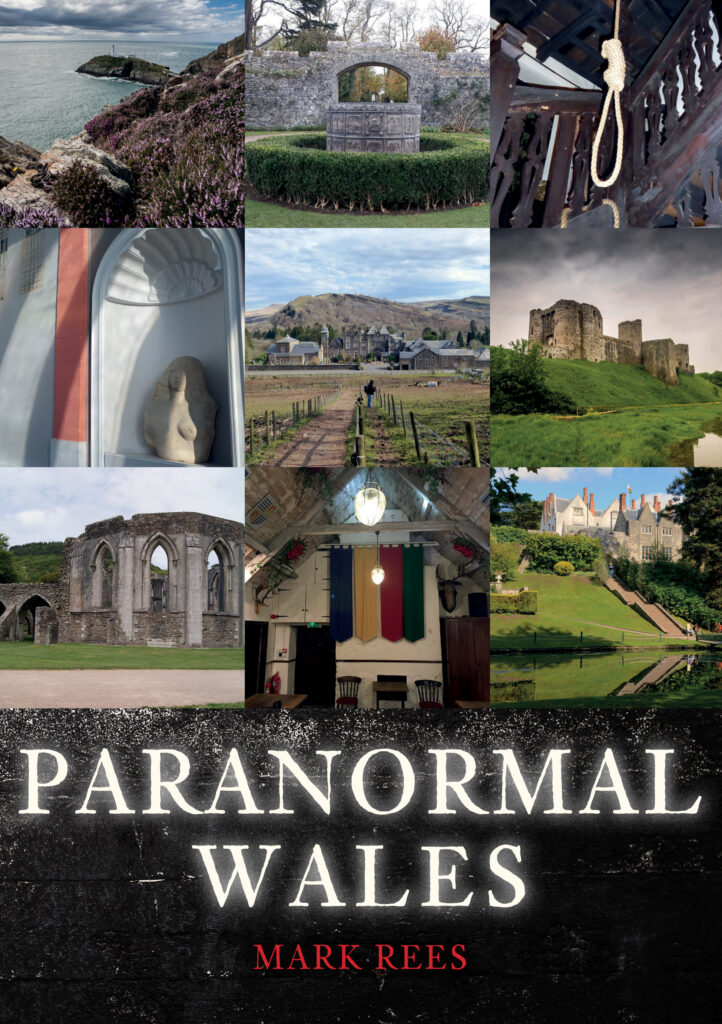 Paranormal Wales, the spooky new book from Mark Rees (author of Ghosts of Wales/ The A-Z of Curious Wales) is out… now!
And that's not all. Podcast fans can also listen to some of these spine-chilling tales on a special Paranormal Wales podcast episode.
Recorded to launch the book as part of the Halloween celebrations, episode 22 of the Ghosts & Folklore of Wales with Mark Rees podcast sees Mark take a look at some of his favourite supposedly haunted places in Wales.
He also catches up with a few special ghost hunting guests along the way, and explores the mysteries surrounding some of the country's most well-known locations.
What's Paranormal Wales all about?
The Paranormal Wales podcast and book are a paranormal investigation in search of Wales' "most haunted" locations.
And by "most haunted", we mean "most haunted."
Unlike some of Mark's other books like Ghosts of Wales and Curious Wales, which focus on more obscure, long-lost tales from the archives, Paranormal Wales does the opposite – it's goes straight for some of the most well-known locations out there.
These are the kind of places that the ghost-hunting TV shows go to film, and where you can spend the night investigating yourself. These are the "superstars" of the Welsh paranormal scene, as it were.
Think Craig-y-Nos Castle, The Skirrid Inn, Margam Country Park and Cardiff Castle.
This collection of Wales' "most haunted" places is packed with full-colour pictures of places you can visit, and while you might think you already know them well, maybe you should check Paranormal Wales before your next visit – just in case!
Exploring Wales' "most haunted" places
What exactly is the Paranormal Wales book all about? Here's the blurb from the publisher:
Wales is said to be the most haunted country in the world. Restless spirits roam the ancient land, from the lofty peaks of Snowdonia to the dark depths of the abandoned mines.
In Paranormal Wales author Mark Rees takes the reader on a spine-chilling journey to dozens of these locations, which include well-known tourist landmarks and more secluded spots well off the beaten track.
These accounts of disembodied voices, supernatural mists and pesky poltergeists range from centuries-old legends to modern-day sightings.
Visit the 'oldest pub' in Wales, where more than 180 people are claimed to have been sentenced to death by hanging.
Explore the majestic opera house built by a world-famous soprano, who some say continues to perform on her beloved stage from beyond the grave.
Spend the night in a seemingly idyllic manor house, where the presence of a Victorian housekeeper is said to reduce unsuspecting guests to tears.
Or step back in time at one of the many ivy-strewn castles, where ladies in white patrol the Gothic battlements as tortured screams ring out from the dungeons below.
Some of these stories might be familiar, others less so, but they all have one thing in common – they will make you think twice about turning off the light at night.
Illustrated throughout, Paranormal Wales will be of spine-tingling interest to those wanting to discover more about the country's haunted and hidden heritage.
How can I listen to the Paranormal Wales podcast episode?
The Paranormal Wales podcast book launch is episode 22 of the Ghosts & Folklore of Wales podcast. Timed to coincide with Halloween, it's overflowing with first-hand anecdotes of eerie experiences, special guests and spooky surprises.
But that's not all! The Ghosts & Folklore of Wales podcast has LOTS more real-life ghost stories for your listening pleasure, and includes a few tales from the pages of Paranormal Wales, including an on-going series of creepy castles.
You can listen to the Ghosts of Wales podcast using the player below, or subscribe on your favourite platform such as Apple Podcasts/ Spotify/ Google/ YouTube etc. by following the links:
How can I buy the Paranormal Wales book?
Paranormal Wales was published in 2020 from Amberley Publishing.
More specifically, it was released in March 2020, on the same week the UK went into lockdown – talk about bad timing! As a result, the original book launch was postponed, cancelled, and in the end was launched as a Paranormal Wales podcast episode instead.
Paranormal Wales, along with all of Mark's other books including Ghosts of Wales and The A-Z of Curious Wales, are available now from all good bookshops and online from the books section.
What about Paranormal Wales events?
As mentioned , sadly the Paranormal Wales book launch was postponed due to the lockdown, and became the Paranormal Wales podcast instead.
When, however, it is safe to do so, there will indeed be a live Paranormal Wales event in the style of Mark's Ghosts of Wales – Live! events – watch this space!
Sadly, it's impossible to predict right now when exactly these "paranormal parties" will return, but be assured that we'll be making up for lost time with some suitably over-the-top ghostly entertainments as soon as possible.
For the latest news and updates, be sure to sign up to the newsletter and keep an eye on social media.
Got a comment or suggestion? Or just want to say 'hello'? Get in touch!
It's always great to get mail, and if you have any thoughts on the Paranormal Wales podcast and book, the Ghosts & Folklore of Wales podcast and books, or anything else for that matter, do get in touch via the Mark Rees contact page.