Ghosts and Folklore podcast EP24: The Cursed Room at Wales' National Stadium
Can a sports stadium really have a cursed room? And did it really cause team after team to lose important games?
That's exactly what was claimed to be happening at Cardiff's Millennium Stadium at the turn of the century, when more than 10 football teams in a row (along with a few rugby teams) lost major finals after being stationed in the dreaded south changing room.
The odds that so many teams could miss out on the glory of winning the FA Cup, league cup and promotion finals were starting to look increasingly unlikely, and when they went beyond 8,000/1 it was decided that something had to be done.
In order to exorcise the curse, stadium chiefs turned to an unlikely exorcist – the world's richest painter.
Yes, the world's richest painter was drafted in to save the day to work his magic with a paint brush, rather than a cross and the Bible.
Did it work? All is revealed on episode 24 of the Ghosts & Folklore of Wales with Mark Rees podcast!
Welsh Anthem Music at the end of the Cursed Room episode
A huge thank you to Cantorion / Ian Cantor for making the piano version of Hen Wlad fy Nhadau piano available via Creative Common under the Attribution-ShareAlike 3.0 Unported (CC BY-SA 3.0) license. For more, visit the website.
Did you catch last week's episode of the Ghosts and Folklore of Wales podcast?
Did you miss last week's episode? Catch up now: EP23 Guy Fawkes Night: The folklore, traditions, history and ghosts of Bonfire Night (Noson Guto Ffowc).
For a full list of every episode, from the Mari Lwyd to the Mabinogion, and to subscribe, visit the Ghosts of Wales podcast page.
Enjoy this podcast? Read more about Wales' curious customs in The A-Z of Curious Wales!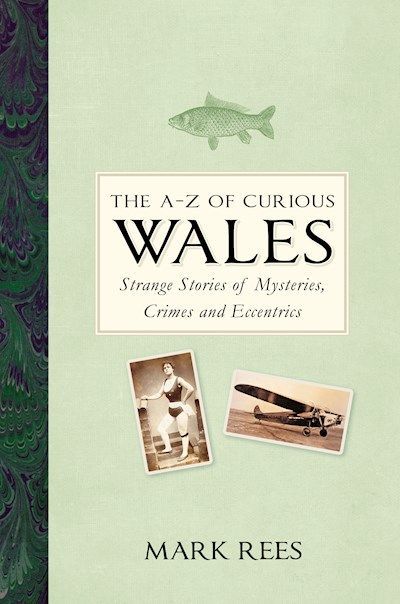 The A-Z of Curious Wales by Mark Rees is available from all good bookshops, and online from the books page.
Published by The History Press, here's the blurb:
Wales' history is packed with peculiar customs and curious characters. Here you will discover alien landscapes, ancient druids and a Victorian ghost hunter.
Find out why revellers would carry a decorated horse's skull on a pole door to door at Christmastime, how an eccentric inventor hoped to defeat Hitler with his futuristic ray gun, and why a cursed wall is protected by a global corporation for fear it might destroy a town.
From the folklore surrounding the red dragon on the flag, to the evolution of the song 'Sosban Fach', this compendium of weird and wonderful facts will surprise and delight even the most knowledgeable resident or visitor.