EP17 The Devil's Bridge
Did Satan really build a bridge in Wales – the notorious Devil's Bridge – in exchange for the soul of an old Welsh woman?
Find out in the real story behind the folk tale from haunted Wales.
In this episode of the GHOSTS & FOLKLORE podcast, join Mark Rees (author of Ghosts of Wales/ Paranormal Wales etc.) for a journey in search of Satan himself who, it is claimed, built a bridge over a great chasm in exchange for the soul of an old Welsh widow.
Dare you cross the Devil's Bridge?
This story is one of Wales' most popular folk tales, and while it might seem a little bit too far-fetched to be true, there's no denying the fact that the Devil's Bridge really does exits in the village of Pontarfynach.
In fact, it's not just one bridge, but three.
By digging deeper into the origins of this much-loved tale we can attempt to separate the fact from the fiction, and uncover the real secret history behind this most diabolical of spans.
Did the Devil really build a bridge in haunted Wales? Press play to find out more!
Did you catch last week's episode of the Ghosts & Folklore of Wales podcast?
Be sure to check out episode 16: The Ghost Train from the Future, the real-life story of a paranormal locomotive which terrified a Welsh farmer.
For a full list of every episode, from the Mari Lwyd to the Mabinogion, and to subscribe, please visit the podcast page.
Read more Welsh curiosities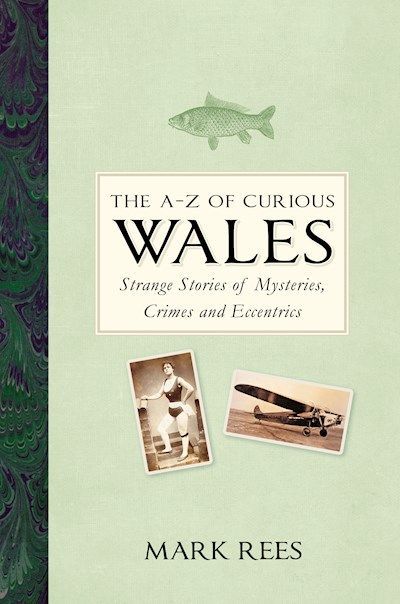 The tale of Devil's Bridge, and many more, appears in The A-Z of Curious Wales by Mark Rees.
Published by The History Press, here's the blurb:
Wales' history is packed with peculiar customs and curious characters. Here you will discover alien landscapes, ancient druids and a Victorian ghost hunter.
Find out why revellers would carry a decorated horse's skull on a pole door to door at Christmastime, how an eccentric inventor hoped to defeat Hitler with his futuristic ray gun, and why a cursed wall is protected by a global corporation for fear it might destroy a town.
From the folklore surrounding the red dragon on the flag, to the evolution of the song 'Sosban Fach', this compendium of weird and wonderful facts will surprise and delight even the most knowledgeable resident or visitor.
It is available from all good bookshops and online from the books page.