EP26 Ghost Hunting in Wales' "Most Haunted" Places with paranormal investigators Cymru Paranormal
What is it REALLY like to go ghost hunting in Wales' "most haunted" places?
To find out, Mark Rees (author of Ghosts of Wales) caught up paranormal investigators Cymru Paranormal to learn not just how to track down the paranormal, but how to do it ethically.
What are their scariest experiences? What equipment do you need for an overnight vigil? Do they use Ouija boards? And is it anything like the ghost-hunting TV shows and spooky movies that we see on our screens?
For some of the answers – and even more questions – listen to the latest episode of the Ghosts & Folklore of Wales with Mark Rees podcast!
Sosban Fach music at the end of the episode
A huge thank you to Sain (Recordiau) Cyf. for making the snippet of Sosban Fach available via Creative Common under the Attribution-ShareAlike 3.0 Unported (CC BY-SA 3.0) license. For more, visit the website.
Did you catch last week's episode of the Ghosts and Folklore of Wales podcast?
Did you miss last week's episode? Catch up now: EP25 The Secret Islands of the Faeries: King Arthur and y Tylwyth Teg.
For a full list of every episode, from the Mari Lwyd to the Mabinogion, and to subscribe, visit the Ghosts of Wales podcast page.
Enjoy this podcast? Read more about fairy folk from the secret islands in The A-Z of Curious Wales!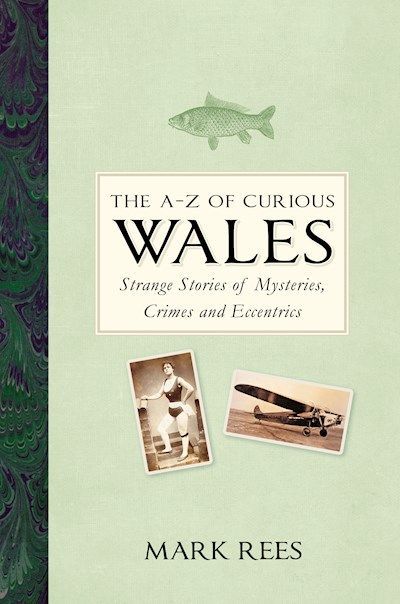 The A-Z of Curious Wales by Mark Rees is available from all good bookshops, and online from the books page.
Published by The History Press, here's the blurb:
Wales' history is packed with peculiar customs and curious characters. Here you will discover alien landscapes, ancient druids and a Victorian ghost hunter.
Find out why revellers would carry a decorated horse's skull on a pole door to door at Christmastime, how an eccentric inventor hoped to defeat Hitler with his futuristic ray gun, and why a cursed wall is protected by a global corporation for fear it might destroy a town.
From the folklore surrounding the red dragon on the flag, to the evolution of the song 'Sosban Fach', this compendium of weird and wonderful facts will surprise and delight even the most knowledgeable resident or visitor.