EP45 Folklore of the Sea: Spooky spirit candles, soul-stealing Devils, clairvoyant cats and Davy Jones' Locker – explore the weird and wonderful Welsh coast on the Ghosts and Folklore of Wales podcast
From nautical corpse candles to swashbuckling Devils, explore the folklore of the high seas on the Ghosts and Folklore of Wales podcast.
In times gone by, the brave seafaring men who set sail from Wales needed all the help they could get for a trouble-free voyage. What would the weather be like? Would it be calm sailing? And were there any evil entities in the waves looking to cause them mischief?
In the folklore-packed episode of the Ghosts and Folklore of Wales podcast, author Mark Rees (Ghosts of Wales) explores many an old tradition and superstition, include:
• Feline folklore in which cats could be used to predict the future
• The origin of the expression Davy Jones' Locker
• Defending yourself from evil spirits
• How the Devil would sail the seas in search of souls to take back to the underworld
• The ghosts who ride the white-waves during stormy weather
• And even some handy uses for what Richard Burton described as Welshman's caviar – laverbread.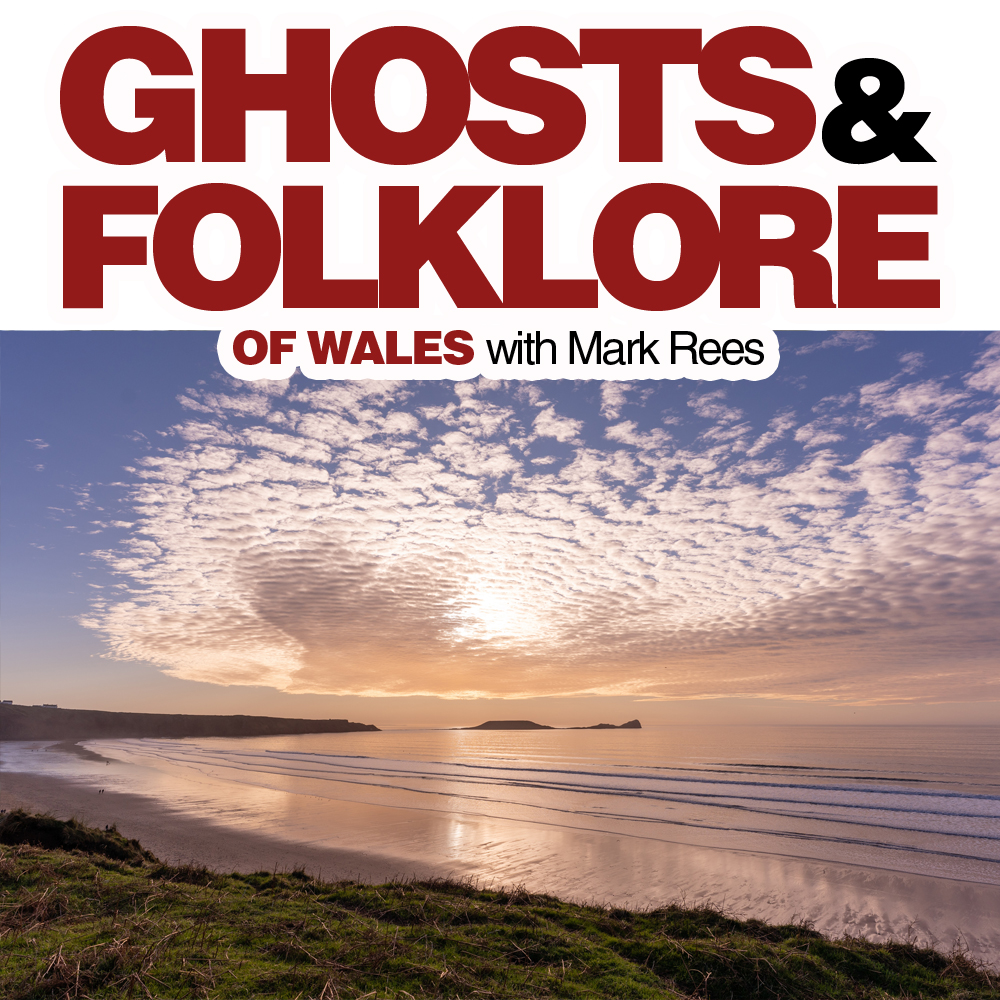 Did you catch last week's episode of the Ghosts and Folklore of Wales podcast?
Did you miss last week's episode? Catch up now: EP44 The Haunted Mansion; or, a Cardiff Ghost Story: A lady in grey is one of the many paranormal guests haunting a Victorian house. Let's go ghost hunting on the Ghosts and Folklore of Wales podcast!
For a full list of every episode, from the Mari Lwyd to the Mabinogion, and to subscribe, visit the Ghosts of Wales podcast page.
Enjoy this "folklore of the sea" podcast? Read lots more tales in The A-Z of curious Wales!
The A-Z of curious Wales by Mark Rees – as well as Mark's other weird and wonderful books – is available now from all good bookshops, and online from the books page.
Published in 2019 by The History Press, here's the blurb:
Wales' history is packed with peculiar customs and curious characters. Here you will discover alien landscapes, ancient druids and a Victorian ghost hunter.
Find out why revellers would carry a decorated horse's skull on a pole door to door at Christmastime, how an eccentric inventor hoped to defeat Hitler with his futuristic ray gun, and why a cursed wall is protected by a global corporation for fear it might destroy a town.
From the folklore surrounding the red dragon on the flag, to the evolution of the song 'Sosban Fach', this compendium of weird and wonderful facts will surprise and delight even the most knowledgeable resident or visitor.