EP20 Secret history of Nos Calan Gaeaf
Join author Mark Rees (Ghosts of Wales/ Paranormal Wales etc.) as he goes in search of the secret history of Nos Calan Gaeaf, the Welsh Halloween, on the Ghosts and Folklore of Wales podcast.
In Wales, October 31 is a magical night when ghosts, fairies, and all manner of supernatural creatures may be encountered.
In the early 1900s a pioneering American author from New England published what is considered to be the first history of Halloween, and by using that as our starting point for the spookiest day of the year we will uncover:
The role the Welsh Druids played in shaping Halloween.
How witches transformed people into standing stones.
The fairies, pixies and ghosts lurking at the dark crossroads.
The dreaded Hwch Ddu Gwta, a terrifying supernatural pig that chased merrymakers home after the witching hour.
How huge bonfires were lit during harvest festivals long before the arrival of Christianity.
How to predict who will die in the coming year on All Hallows' Eve.
And the really important questions – could young girls really predict who their future husbands by throwing a knife into a field of leeks after dark?
All of these questions and more will be explored in this special Halloween episode of the Ghosts & Folklore of Wales with Mark Rees podcast!
Did you catch last week's episode of the Ghosts & Folklore of Wales podcast?
Did you miss last week's episode? Catch up now: EP19 Beware the Welsh Jack-O'-Lantern!: A Halloween special exploring the horrible history of the "dreaded ghost" which haunted Wales after dark on Nos Calan Gaeaf.
For a full list of every episode, from the Mari Lwyd to the Mabinogion, and to subscribe, please visit the podcast page.
History of Halloween in Wales: 5 special episodes
October is the Halloween takeover month on the Ghosts & Folklore of Wales podcast, and this secret history of Nos Calan Gaeaf episode is the third of five stand-alone specials.
For a full list of episodes check out the Halloween Specials podcast page.
Read more about the secret history of Nos Calan Gaeaf and other Welsh curiosities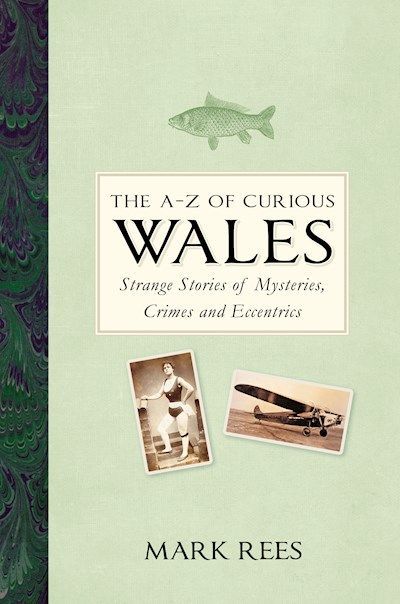 This tale and many more appears in The A-Z of Curious Wales by Mark Rees.
Published by The History Press, it's available from all good bookshops and online from the books page.
For more Welsh ghost books for Halloween, be sure to check out the "trilogy of terror" page – they're spine-chillingly good!