EP33 St Dwynwen, the Welsh patron saint of lovers: The fascinating history and folklore of Wales' patron saint of love, how to celebrate Dydd Santes Dwynwen, and Ynys Llanddwyn the 'island of love.'
St Dwynen: According to the legend, the life of fifth-century saint was far from easy.
She is said to have forsaken love for herself in order to bring it to others, and was granted wished by angels, and a magic potion, in order to make it happen from a church off the coast of Anglesey.
Join Mark Rees (author of Ghosts of Wales) as he investigates her former home and site of pilgrimage on the island of Ynys Llanddwyn, and how she is celebrated annually on January 25.
So never mind St Valentine's Day – celebrate Dydd Santes Dwynen!
Did you catch last week's episode of the Ghosts and Folklore of Wales podcast?
Did you miss last week's episode? Catch up now: EP32 The Murdered Knight: A chilling real-life "Ghosts of Wales" tale in which the spectre of a slain warrior returns to a secluded Welsh farm house.
For a full list of every episode, from the Mari Lwyd to the Mabinogion, and to subscribe, visit the Ghosts of Wales podcast page.
Enjoy this podcast? Read more about Santes Dwynwen in The A-Z of Curious Wales!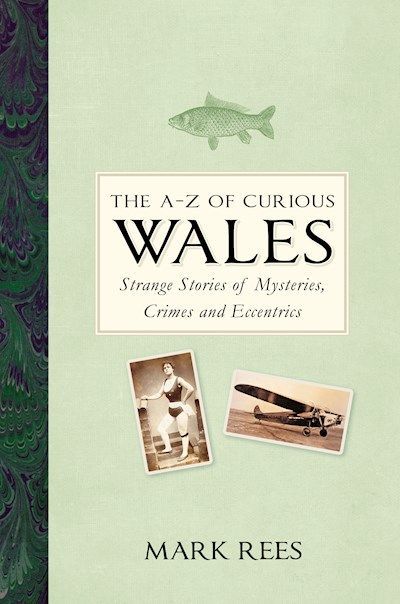 The A-Z of Curious Wales by Mark Rees is available from all good bookshops, and online from the books page.
Published by The History Press, here's the blurb:
Wales' history is packed with peculiar customs and curious characters. Here you will discover alien landscapes, ancient druids and a Victorian ghost hunter.
Find out why revellers would carry a decorated horse's skull on a pole door to door at Christmastime, how an eccentric inventor hoped to defeat Hitler with his futuristic ray gun, and why a cursed wall is protected by a global corporation for fear it might destroy a town.
From the folklore surrounding the red dragon on the flag, to the evolution of the song 'Sosban Fach', this compendium of weird and wonderful facts will surprise and delight even the most knowledgeable resident or visitor.