Storytellers have that magical ability to whisk us away to distant times and places, and that's exactly what special guest Owen Staton does in this episode of the GHOSTS & FOLKLORE podcast.
The 11th episode of the Ghosts and Folklore of Wales podcast featuring storyteller Owen Staton is live…. NOW!
In my first attempt at recording a live interview I caught up with my good friend Owen Staton, a Welsh storyteller and a familiar face at many of my "Ghosts of Wales – Live!" events.
Despite all of my technical worries I think it worked out pretty well, and while a few little gremlins did rear their ugly heads, I think you'd have to listen pretty closely to spot them.
Bringing myths and legends to life with Owen Staton
The highlight of our conversation was Owen recalling the eerie Welsh folk tale, arguably a Welsh folk horror tale, of Rhys and Meinir. Set in Nant Gwrtheyrn, it involves a gruesome finale to what should have been the happiest day of the couples life.
But I won't spoil the ending here – listen to the podcast to hear it for yourself! – and even if you think you know the story, I don't think anyone tells it like Owen.
We also spoke about some of his personal experiences with what might be considered to be paranormal activity, and his own thoughts on such things as ghost hunting and "ghost happenings".
So pour yourself a frothy tankard, pull up a pew next to the fireplace, and join us for a tale or two at the time between times…
Enjoy!
Owen Staton online
For more storytelling from Owen Staton, check out his YouTube channel here:
Time Between Times Storytelling
Subscribe to the Ghosts and Folklore of Wales podcast
To listen to the podcast on your favourite player (Apple/ Spotify/ YouTube etc.) and to subscribe follow the links below:
• Ghosts and Folklore of Wales on Apple Podcasts/ iTunes
• Ghosts and Folklore of Wales on Google Podcasts
• Ghosts and Folklore of Wales on Spotify
• Ghosts and Folklore of Wales on iHeartRadio
• Ghosts and Folklore of Wales on PodBean
• Ghosts and Folklore of Wales on YouTube
Read more curious Welsh tales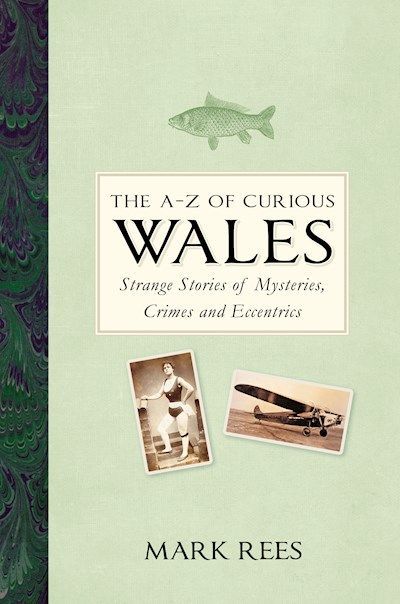 For more background on the tragic tale of Rhys and Meinir – and many other weird and wonderful Welsh curiosities – check out The A-Z of Curious Wales by Mark Rees, available now from all good bookshops and online.