The world is full of magical tales about fairies, but have you ever wondered where they come from?
Welcome to the 14th episode of my "curious" Ghosts and Folklore of Wales podcast, which is dedicated to the realm of faerie!
Following a rather grim and gritty episode last time out, I decided to lighten the mood with the most mood-lightening subject I could think of… fairies.
Yes, this episode is dedicated to the fair folk, with Wirt Sikes – the pioneering Victorian writer who travelled from America to Wales and recorded countless accounts of their mischievous exploits – serving as our guide.
Sikes has long been one of my folkloric heroes, and he wrote extensively on the subject of the little folk in Wales. So much so, in fact, that there's way too much to include in a single episode – there's too much for 100 episodes, even! – and, as such, this whirlwind tour takes a look at two key features of his research.
Exploring the Realm of Faerie
To begin with, we'll explore the beliefs held by the people of Wales in these mysterious creatures, and then we'll go right back to King Arthur's time when they are believed to have first emerged in search of their secret origin.
I think this episode is a great starting point for anyone thinking of dipping their toe into the murky world of folkloric podcasts, because in roughly half an hour's time we'll attempt to answer such long-pondered questions as:
• Where in the country did the fairies originally come from – north Wales or south Wales?
• Did people really believe in fairies, or were these accounts just "fairy tales"?
• Are you seriously telling me that all the fairies in Wales disappeared when the people of Neath gave up drinking alcohol for a while?
All will be revealed (well, kind of) if you accept this invitation to be whisked away to the land of faerie by pressing play…
Enjoy!
For more ghosts and folklore, check out last week's podcast episode:
The Wraith of a Murderer Stalks Abroad: a real-life ghost story from haunted Wales EP13
Looking for more tales from the realm of faerie? How about… fairy dogs!
Did you know that fairies used to ride corgis into battle? And that the name corgi is derived from Welsh folklore? Listen to the fairy dogs episode – yes, fairy dogs! – to learn all the secrets:
Subscribe to the Ghosts and Folklore of Wales podcast
To listen to the podcast on your favourite player (Apple/ Spotify/ YouTube etc.) and to subscribe follow the links below:
• Ghosts and Folklore of Wales on Apple Podcasts/ iTunes
• Ghosts and Folklore of Wales on Google Podcasts
• Ghosts and Folklore of Wales on Spotify
• Ghosts and Folklore of Wales on iHeartRadio
• Ghosts and Folklore of Wales on PodBean
• Ghosts and Folklore of Wales on YouTube
Read more curious Welsh tales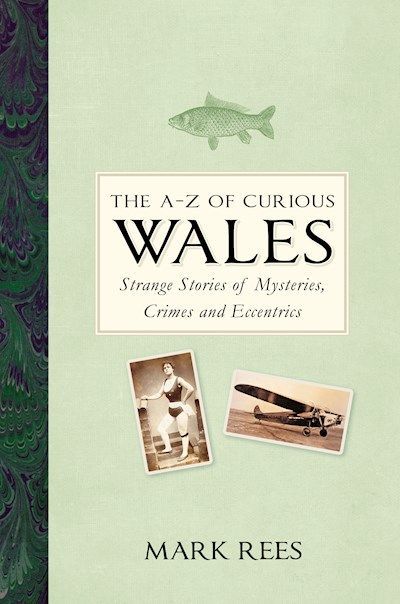 For more about the fairy folk of Wales, and many other weird and wonderful Welsh curiosities, check out The A-Z of Curious Wales by Mark Rees, available now from all good bookshops and online.