EP27 The Mari Lwyd on the Ghosts and Folklore podcast with Mark Rees
The Mari Lwyd is arguably the most well-known character in Welsh folklore.
But why do people carry a horse's skull door-to-door late at night, and challenge their neighbours to a battle in verse?
In a similar way to Krampus, the Central European "evil Santa", and Gryla, the Icelandic troll, this curious Christmas custom fascinates people around the world.
In this special festive episode of the Ghosts & Folklore of Wales podcast, author Mark Rees (Ghosts of Wales) goes in search of some long-lost answers in the Welsh folklore archives:
• What happens if the Mari Lwyd gains entry to your house, and how can you pacify it?
• Does the skull hide a much darker meaning, and could it really be known as the Grey Death?
• What connection does it have with Christianity and the Virgin Mary?
• Are its origins linked with ancient Celtic beliefs in death and rebirth?
• And most importantly – does it really terrify people and challenge them to a "rap battle" just to get beer and cake?
For some of the answers – and even more questions – listen to the latest episode of the Ghosts & Folklore of Wales with Mark Rees podcast.
Merry Christmas/ Nadolig llawen!
Christmas on the Ghosts & Folklore of Wales with Mark Rees podcast
Christmas is a magical time for Welsh folklore and ghost stories, and every Thursday during December there'll be a new special episode of this podcast dedicated to a festive subject.
These include such folkloric favourites as the Mari Lwyd, a haunted pubs and even a magical Christmas tree.
Be sure to check out each episode on December 3, 10, 17, 24 and 31 – yes, there'll even be new episodes of Christmas Eve and New Year's Eve!
Did you catch last week's episode of the Ghosts and Folklore of Wales podcast?
Did you miss last week's episode? Catch up now: EP26 Ghost Hunting in Wales' "Most Haunted" Places with paranormal investigators Cymru Paranormal.
For a full list of every episode, from the Mari Lwyd to the Mabinogion, and to subscribe, visit the Ghosts of Wales podcast page.
Enjoy this podcast? Read more about the Mari Lwyd in The A-Z of Curious Wales!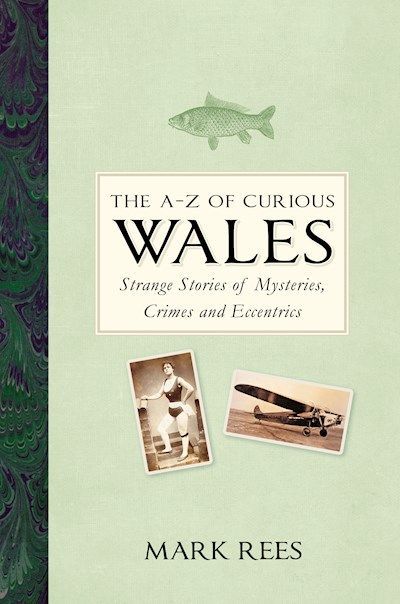 The A-Z of Curious Wales by Mark Rees is available from all good bookshops, and online from the books page.
Published by The History Press, here's the blurb:
Wales' history is packed with peculiar customs and curious characters. Here you will discover alien landscapes, ancient druids and a Victorian ghost hunter.
Find out why revellers would carry a decorated horse's skull on a pole door to door at Christmastime, how an eccentric inventor hoped to defeat Hitler with his futuristic ray gun, and why a cursed wall is protected by a global corporation for fear it might destroy a town.
From the folklore surrounding the red dragon on the flag, to the evolution of the song 'Sosban Fach', this compendium of weird and wonderful facts will surprise and delight even the most knowledgeable resident or visitor.