EP31 New Year's Folklore of Wales: From the Mari Lwyd to Calennig, it's out with the old and in with the new as Mark Rees explores the history of Welsh folklore on New Year's Eve and New Year's Day
It's out with the old and in with the new on the Ghosts and Folklore of Wales podcast!
Join Mark Rees (author of Paranormal Wales/ Ghosts of Wales) as he explores the old New Year's Eve and New Year's Day traditions, from such curious customs as the Mari Lwyd to seasonal favourite Calennig.
Is it good luck or bad luck if a you see a woman before a man on New Year's Day? Press play to find out!
Happy new Year/ blwyddyn newydd dda!
Christmas on the Ghosts & Folklore of Wales with Mark Rees podcast
Christmas is a magical time for Welsh folklore and ghost stories, and every Thursday during December there'll be a new special episode of this podcast dedicated to a festive subject.
These include such folkloric favourites as the Mari Lwyd, a haunted pubs and even a magical Christmas tree.
Be sure to check out each episode on December 3, 10, 17, 24 and 31 – yes, there'll even be new episodes of Christmas Eve and New Year's Eve!
Did you catch last week's episode of the Ghosts and Folklore of Wales podcast?
Did you miss last week's episode? Catch up now: EP30 Curious Christmas Folklore of Wales: Christmas Eve and Day traditions and customs, from kissing under the mistletoe and light-filled Plygain services to Sion Corn (Santa Claus) and the Mari Lwyd.
For a full list of every episode, from the Mari Lwyd to the Mabinogion, and to subscribe, visit the Ghosts of Wales podcast page.
Enjoy this podcast? Read more Welsh folklore in The A-Z of Curious Wales!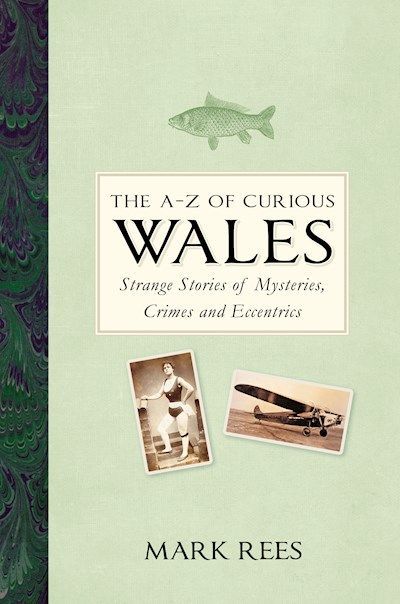 The A-Z of Curious Wales by Mark Rees is available from all good bookshops, and online from the books page.
Published by The History Press, here's the blurb:
Wales' history is packed with peculiar customs and curious characters. Here you will discover alien landscapes, ancient druids and a Victorian ghost hunter.
Find out why revellers would carry a decorated horse's skull on a pole door to door at Christmastime, how an eccentric inventor hoped to defeat Hitler with his futuristic ray gun, and why a cursed wall is protected by a global corporation for fear it might destroy a town.
From the folklore surrounding the red dragon on the flag, to the evolution of the song 'Sosban Fach', this compendium of weird and wonderful facts will surprise and delight even the most knowledgeable resident or visitor.